The reviews will give you some idea of the blissful escape Wildwood will offer. Of course, the best way to assess Wildwood as a getaway destination is to come yourself…
A beautifully appointed beach house with dishwasher, microwave and two wood-burning fires…in fact there is nothing to be wished for.

Amanda Hooten, The Sydney Morning Herald [October 27, 2001], The Age's Annual Weekend Away Guide [2001]
Coastal retreat a jewel in the woods.
The first rule in the book for a successful weekend away is to leave for your proposed destination on Friday night.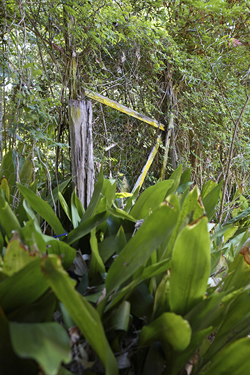 You may wonder about the wisdom of this when you're battling to wind up your work, sitting bumper to bumper in Friday night traffic or left trying to read the street signs of some sleepy coastal town in the pitch dark. But waking in your relaxing environment the next morning is just reward. It was this sensation we experienced at Wildwood, a three bedroom beach retreat at Pearl Beach.
Arriving under the cover of darkness on a Friday night, after an hour and a half drive north of Sydney, we approached what appeared to be a simple holiday cottage under a cover of dense, if slightly overgrown foliage. The house, built in the 1940's, has been restored into a comfortable and stylish holiday home. In fact, it has twice been featured on the cover of Better Homes and Gardens. And with every convenience and a relaxed country feel, it is difficult not to retreat inside its confines for the weekend.
The three bedrooms – two with queen beds and the third with a single are all large and sunny. However, it is the master bedroom that is the pick of the house. Sunlight filters through the picture windows in the early morning giving the room a golden glow. In the cooler months there is the option of using the large open fireplace with a ready supply of cut timber at hand.
In winter the lounge room is also an inviting zone with a slow combustion fire, comfy cornflower blue lounges and an ample collection of videos and CD player. Flowing on from the lounge is a dining area with a solid Oregon dining table that seats six comfortably. A well-appointed kitchen has everything you need to cook up gourmet meals on a weekend stay including a dinner service for six and champagne flutes. Fortunately, there is a dishwasher too.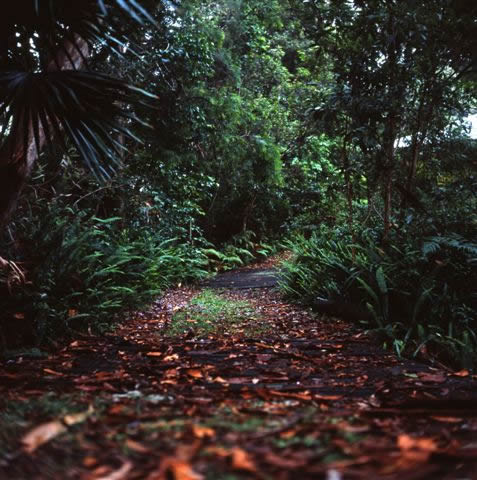 But it's worth venturing outside Wildwood. On our first morning there – with fresh brewed coffee and croissants from the nearby corner store – the back deck beckoned for breakfast. It is here that you can take in the extensive garden filled with towering gums, blooming hibiscus and mature tree ferns. And hidden at the very far reaches of the 1900 sq m block is a hammock for those who really want to get away from it all.
The feeling of being at one with nature is enhanced when rainbow lorikeets swoop on to the large outdoor table and hover about for a little attention and a snack. Next day, more of the friendly birds drop in for a bite – this time an overweight kookaburra who tackles spaghetti by trying to whack the life out of the strands before devouring them.
Away from the birds, the village of Pearl Beach beckons. It's a five minute walk to the beach from Wildwood along streets named after every jewel in a treasure chest – Diamond St, Crystal Avenue and Beryl Boulevarde gets a look in there as well.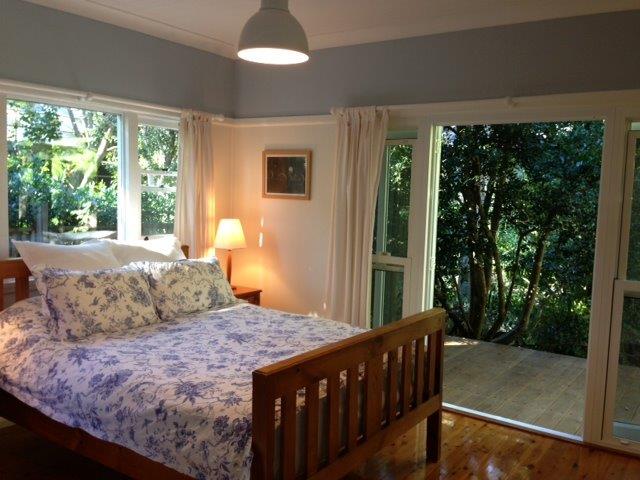 It's on these streets that you can glimpse old and new stylish beach shacks behind the thick foliage – the central coast town, a National Trust listed community, has become a convenient hideaway for cashed-up Sydneysiders. The beach is on a protected bay and the calm waters make it an ideal spot for children to swim. If not, there's a rock pool at one end of the beach which is ideal for laps.
If you don't throw out a line and catch your dinner, there is the option of two restaurants at Pearl Beach – Pearls, an inviting timber cottage near the beach, has the better reputation. As the weather cools, walks are an attractive option. At the end of nearby Crystal Avenue there is a half-hour return trip to waterfall, in an area known as the Arboretum.
There are tennis courts and a bowling green in Pearl Beach, but overall it is not a place to over-extend yourself. Its attraction is that there really isn't much there except a wonderful beach, peace and quiet and a great retreat among the Wildwood.
Jennifer Melocco, The Sunday Telegraph [June 30, 2002]