Welcome to Wildwood at the charming National Trust village of Pearl Beach on the NSW Central Coast.
Nestled in a beautiful bush canopy, Pearl Beach is just over an hour's drive north of Sydney. Wildwood is your very own private three bedroom holiday hideaway for five people and just a five minute walk to the secluded beach cove.
If you want a do a few laps, the rock pool is just the answer. Built in the early 1930's, this 25 metre ocean pool is a perfect spot for some salty exercise. It was extensively renovated in 2010 and is as popular as ever with locals and visitors alike.
Opposite the beach is a café where you can enjoy coffee and cake or a light meal whilst soaking up the atmosphere that Pearl Beach has to offer.
'Pearls', the award-winning modern Australian restaurant sitting right on the beach, is a great spot for lunch or dinner with a stunning ocean view.
Wildwood, which sits on ½ an acre, was originally built in the 1940s. It is one of the original homes in Pearl Beach, which was a fishing village, full of very humble shacks and cottages built in a sublime setting. The home was once owned by Mr Percy Cousins, who was CEO of Pittman's Shorthand (which journalists had to learn). I bought the property in 1999, called it 'Wildwood' and gave it a much needed spruce up then, and several times since.
The property underwent a major renovation from March – June 2013:
2x beautiful new hardwood decks – (one north facing, one south facing) – which are now level with the house floor and bring the inside out and vice versa
a total new kitchen and new appliances
gorgeous new white French doors and double hung windows across the front of the house
new quality white sliding doors opening onto the north deck
new louvre windows which provide the best ventilation
new lighting inside and out
new 'tongue and groove' panelling on the ceilings in the original part of the house for a classy, cosy feel
new external weatherboards on the house and both outbuildings
a new roof on the shed
freshly painted inside and out (a classic dark French grey on the outside which contrasts beautifully with the ultra white doors and windows, and a light, bright warm white on the inside)
some new artwork, some new furniture, a new stereo and some new soft furnishings.
A new bathroom was installed in 2010.
The renovations still retained the charm of the property that made Wildwood so popular, but the cottage has been transformed into a stylish, cosy and comfortable getaway. It now has a 'French meets the Hamptons meets Pearl Beach' look and feel to it!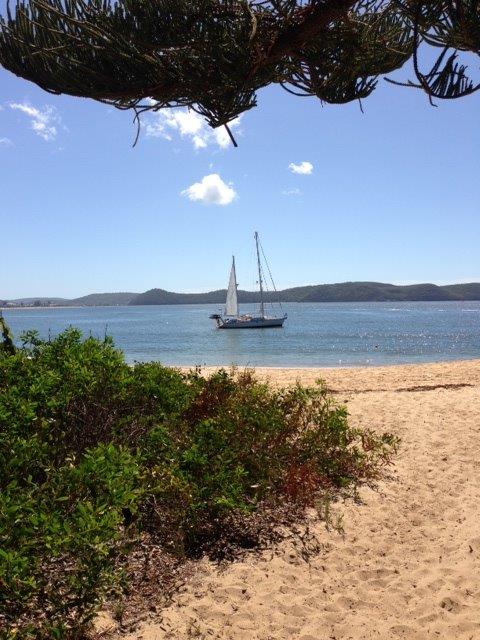 Wildwood is one of only two holiday houses (from a rental pool of more than 150) in Pearl Beach with an open fire in its main bedroom, as well as another wood fire in the lounge room. It's one of the many reasons why Wildwood is special and so popular with guests.
Please note: NO pets (even those well behaved, cute, adorable, potty trained et al!) are permitted at Wildwood.
Wildwood is not suitable for children under 5.
Wildwood is in a bush setting – hence the name! It is quiet and secluded and set well back from the road on ½ an acre of native and exotic gardens.
It's why many people love staying and keep coming back, BUT, please be advised that the surrounding trees do play major havoc with the TV reception (Wildwood is not alone on that matter!).
Wildwood does have a digital flat screen TV and reception for all the ABC and SBS channels is excellent, but reception for channels 7, 9 and 10 is not very good. So if you are keen to watch lots of free-to-air TV (involving channels 7, 9 and 10), Wildwood is most likely not suitable for you.
There is a DVD and VHS player (and a handful of DVDs to get you started) and a CD player to make up for the TV reception, or you can just enjoy the garden, the stars, or the sounds of the ocean.